Cursor mover, mouse clicks
Improvements noted from the last meeting:
The switches with the wooden embroidery hoop design kept popping off. She needs something strong that can take her strength in drag and pressing. Make a snap frame that locks with the base. And a lashing design that locks top to the base of the switch. 

Make wire connections strong. Cover in nylon paracord. 

Use purple fabric on top. Test labels for each switch.

Create velcro on cover so it can be washed. She likes the feel of faux fur, velvet and neoprene.

Add Velcro to bottom so they can stay in place

Waterproof everything underneath. Monique says she spills stuff all the time. 

Add Off button to turn off all button actions if cat or someone else accidentally steps on them. 

Add diagonal buttons and right click, left click and locking on/off for right click. And off button. 

Look into TV remote for Xfinity. 

Make cursor move smoothly as she presses button. Provide adjustable speed?
Setup: 
I (Lara) went with Adrian to monique's house for an hour meeting. The goal was to test the next iteration of the cursor mover with mouse clicks with some of the improvements listed above implemented.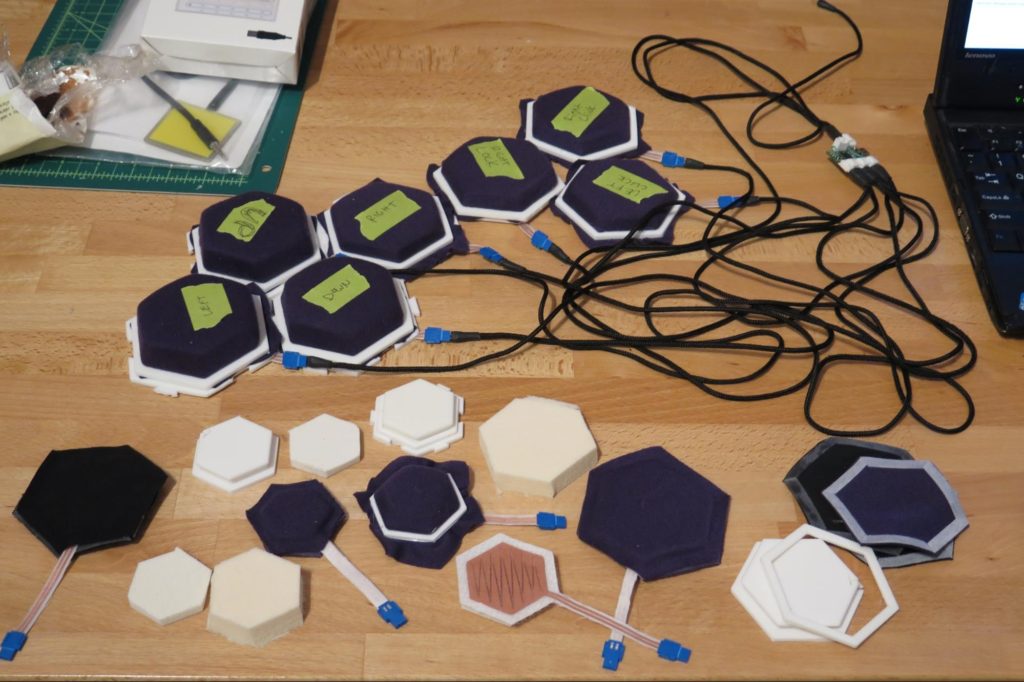 We brought along following prototypes:
7 3D printed large hexagon snap together frames built at two different heights using ¼" and ½" foam connected to the teensy 2.0. Switches programmed to up, down, left, right, right-click, left-click, and right-click lock.

3D printed small snap together frames with foam and switch patches, medium frames with foam and patches

Velcro fabric covers for large, medium and small patch switches and foam. 
She tested the switches were her Windows laptop first then we moved to my Linux machine so I could program the cursor movement speed easily while testing. 
Other items brought: 
A quickly assembled rapid prototyping kit, (to map a range of movements and possible prototype shapes and height,) with:
Felt 

Marker and fine-liner

Masking tape

Safety Pins

Scissors

Velcro

extra fabric for assembling extra switches
Testing Improvements and further notes
Switch Frames
Tested software with large buttons in switch frames.
How is the cursor movement?

Needs to be slow to learn once buttons are laid out in decided configuration, then can be faster.

Make speed adjuster for cursor movement

Review of mouse clicks and which ones are best

Monique Couldn't remember what the right click lock was for 

Mention no diagonals this time
What button labels are best? 
Iron on?

Sticker?

Dots of color – stick on or permanent. No need for taking them off. 
Which height does Monique like best of switch frames? 
Taller ones using ½: thick latex foam

She likes them firm but tall 
Which size of switch frames does Monique like best?
Does the Velcro stick to her carpet? 
Yes. Put Velcro on the bottom of all of them.
Do the switches need to be stuck together? 
Notches?

Magnets?

Not really. She is still figuring out hte layout of the switches that work best. 
Cord management needs to happen! Ideas:
sandwiching them between felt

Tubes they all go in
Testing Velcro Covers Instead of Frames
We swapped out switch frames with velcro covers with different heights of foam and without foam.
Does monique like the switch frames or Velcro covers better?
Why?
Likes the switch frames, they are taller
Attendant?
Show attendant how a switch frame goes together. Have them put it together.
Monique doesn't have an attendant. She has someone named Diane that comes in the morning and the evening 5 days a week. 

Next time. Monique doesn't need to take hers apart except for repair. 
Assistance Qs (she wasn't there to ask)
How long have you been working with Monique?
n/a
Do you work with other people with developmental disabilities?
n/a
How was the process of assembling the switch?
n/a
In your opinion, do you see this being helpful in ways that that other switch interfaces are?
n/a
Connections 
The male headers pulled out of the FFC connector once while Monique was moving a switch. These will be locking or non-existent in the future. 
Repair / Adjust
Diane comes in to help Monique 5 days a week morning and evening. She or someone else will need to repair or arrange a number of switches for Monique for her to use if it involves connectors. 
Remote
The G.I. Cable IR codes work with Monique's cable box! Finish up the remote code and come up with a case that can be pointed at her box (while worn?) for the next visit. 
Mention of wheelchair buckle issue
Monique and Kevin (he hangs with her every Monday and worked with my class) also described their wheelchair belt buckles to be difficult to operate. We took a look and bringing a material like the thermoplastic for braces or boning to our next meeting to see if one side of the belt can be stiffened since it sounded like the problem was being to do a two-hand operation of clicking one side of the buckle into the other. The buckle design is the same as ones used on airplanes.